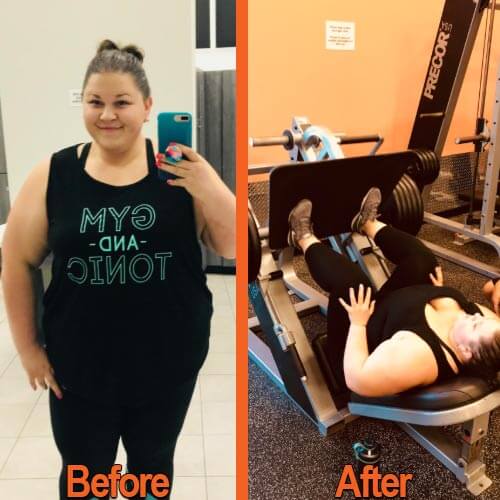 Two years ago Katie decided to join Xperience Fitness in Woodbury, MN, because she wanted to make changes. She had been battling thyroid conditions that were making it difficult for Katie to lose weight. She had been working out at Xperience for a few months, but wasn't seeing the results she was hoping for. Then in June, Katie tore her meniscus and was at an all time low. Both of her knees had issues making it difficult for her at the gym and in her daily life. In fact, Katie had to turn down her dream job within the law enforcement industry, because her knees were not functioning properly. Katie felt hopeless until one day she received an email from Greg, a new personal training manager at Xperience Fitness. He mentioned she used to be an active member, and she should come in and sit with him to discuss her goals.
Katie decided to go for it and setup a meeting with Greg. This was exactly what Katie needed to be held accountable, stay motivated, and reach her fitness goals. Katie proceeded to sign up for six months of personal training with Nick Meyer. She thinks Nick is fantastic, as he pushes her to reach her goals and stay motivated. In fact, after her first 6 months of training were completed, Katie signed up for an additional six months of sessions. She was determined to continue to lose weight and strengthen her knees.
Throughout her journey with personal training, Katie kept increasing the weights and pushing herself to reach her goals. She told herself,
"You can do this if you believe you can"
With the help of her personal trainer, Nick Meyer, and her determination, Katie got cleared from her doctor to lift heavier weight. In fact, she is so strong now, she can do a 60 lb goblet squat with no pain, and a 510 lb PR leg press. She even said,
"I'm so physically strong right now, my knees are like brand new."
We asked Katie what is most different about your life now and she responded:
"I have my energy, confidence, and strength back." She is most excited about the functionality of her knees again. However, most importantly she responded,
"I don't think I've ever been this happy in life."
We also asked Katie what was the biggest obstacle you faced in your journey and she responded:
Nutrition is the most difficult aspect for her. She found after sitting with her personal trainer that she wasn't eating enough causing her energy to be down. Katie sought out Nick for advice on nutrition and he set clear goals for her, including meal prepping and gradually increasing her calorie intake. Since, seeking his advice, she started losing weight and is more knowledgeable about nutrition.

Lastly, we asked Katie what is something you would say to someone who is facing similar challenges you did and she responded:
"GO FOR IT, don't over think it and take the leap of faith.
Trust yourself, as it can become a mind over matter game. Don't tell yourself you cannot do it, as everyone has to start somewhere. You will achieve your goals and never look back.
Keep pushing through Katie and achieving your fitness goals. The team here at XF is proud of you! We are so excited you shared your fitness journey.
Results vary by person.